For the industrial automation are used unmanaged and managed industrial switches, wireless access points, industrial indoor and outdoor performance, media converters, industrial PoE switch, and so on.
Advance Industrial Communication into the Next Generation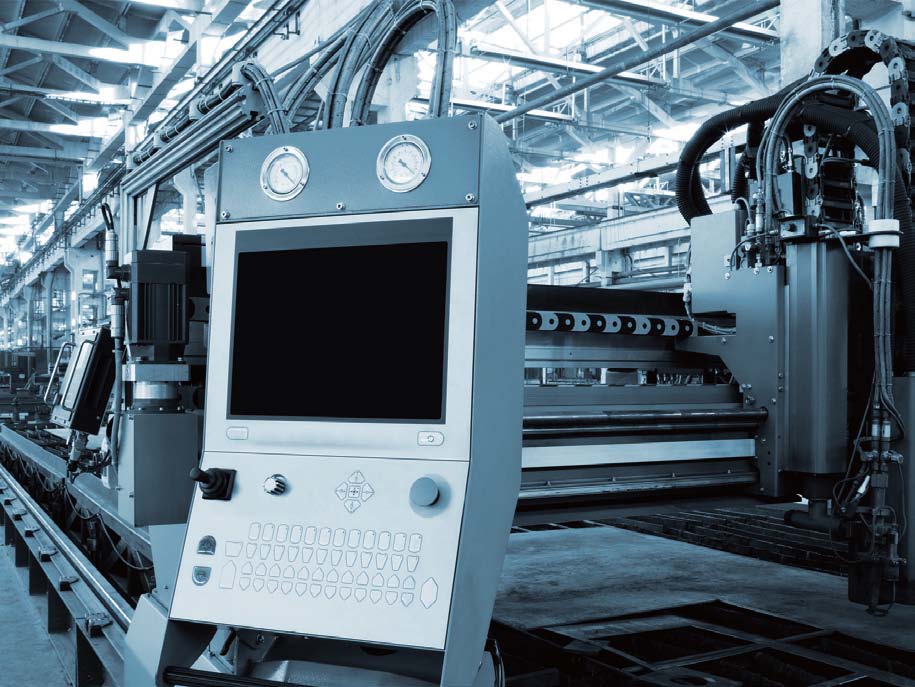 For factory automation, it is necessary to have accurate realtime information of automated production-line at all times. Traditionally radio and serial connections are used for factory communications, but the integration of Ethernet and SCADA automation systems can make such communications even more effective. ORing has the right products for industrial network communications – e.g. PoE Ethernet Switch and Device Server – allowing traditional serial devices (including RS485 type) to be connected to more robust Ethernet networks. With such upgrade, factory supervisors can get real- time production data much faster and much more reliably, thanks to much higher data bandwidth along with stable and swift redundant ring backup protection. The overall result would be vastly improved work efficiency and lower costs.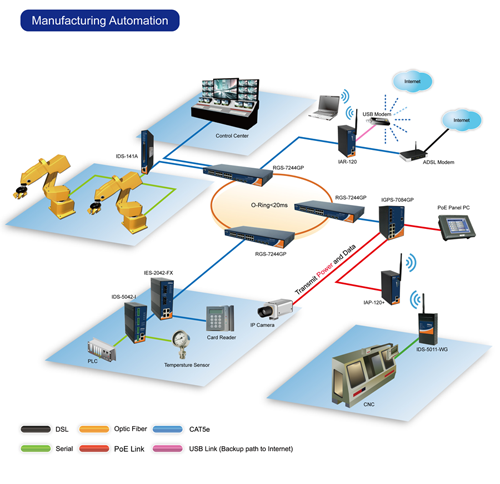 Steel

Factory Automation
Timely and Reliable control of Conveyer Belt Automation – Galati, Romania
The city of Galati is best known as the industrial powerhouse of Romania. Among the city's industrial establishments, the steel factory plays an especially significant role in the nation's economic development, since steel is widely used in many infrastructures throughout the country. To ensure maximum productivity and best quality of steel production, transportation of steel materials from one stage to another must be performed in a timely and reliable manner, requiring effective control of conveyer belt automation. With ORing's state-of-the-art Ethernet switches and device, communications among conveyor belt PLCs, management PCs, and data servers are guaranteed to be swift and uninterrupted, thanks to ruggedness of ORing products coupled with ORing's advanced redundancy technologies (O-Ring, redundant power inputs, etc.). In the control center, PLC management is effective and user-friendly, thanks to ORing's powerful network management utility — Open-Vision. By optimizing information flow of steel production in GalatiCity, ORing is helping economic development in Romania.
Project Overview
PLC (Programmable Logic Controller)




Provides control to the conveyor belts used for steel production. The onboard Ethernet connection allows direct connection with Ethernet switches.
PPower Meters




Continuously monitors power usage at all stages of steel production. Communicates with other devices via serial RS-485 connections. A device server or media converter is required to link with Ethernet networks
Device Servers




ORing IDS-5042




Acts as the "Ethernet network" Servers for the power meters. Enables effective power management of steel production over the Ethernet network.
Media Converters




ORing IMC-121FB-SS-SC




Provides a cost-effective way for the PLC at the special location to 'connect' to the optical portion of the network, without the need of multi-port Ethernet switches.
Managed Ethernet Switches with onboard Fiber Optic Connection




ORing IDS-3082GP




Forms the steel production network backbones. The onboard fiber optic connections among the Ethernet switches significantly extend network distance without the worry of electrostatic interference of network information. By connecting servers to the network, control information can be easily managed and archived.
Powerful Network Management Utility




ORing Open-Vision v3.0




Features centralized and visualized network management, complete network monitoring, and early warning of network events
Application Requirements
Fiber optic connection

Serial RS-485 connectivity to Ethernet networks

Advanced network and power redundancy protections

Powerful and user-friendly network management software

Industrial design to sustain in harsh environment

Withstand wide temperature variations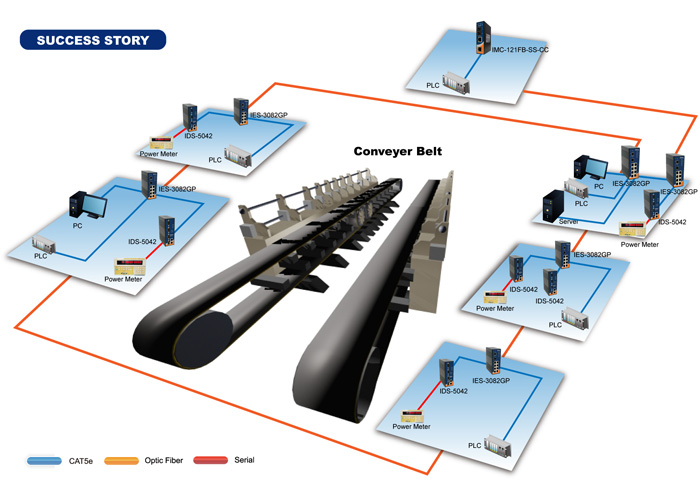 Refrigerator Factory Automation
Effective Energy Management and Statistics Monitoring for Refrigerator Manufacturing Plant in Bulgaria
Bulgaria is a country with a long history of cultural heritage. Since the late 1990s, manufacturing industry has been greatly expanding near the city of Plovdiv, including the emergence of a very productive refrigerator manufacturing plant. Due to the high productivity of this plant, effective energy management and timely monitoring of plant statistics are especially important. For these purposes, ORing's industrial networking products are chosen to provide the much-needed industrial-grade backbone network for this refrigerator manufacturing plant in Bulgaria.

The centerpiece of this project is the energy management system that monitors, visualizes, and stores analysis data of power substations in this Bulgarian refrigerator manufacturing plant. To ensure swift, reliable and uninterrupted information traffic of such important data in tough environments, ORing's unmanaged IES-150B Ethernet switches are used. Additionally, some of the substations are in the remote area, where the implementation of wired networks would be tedious and costly. The use of ORing's IAP-W512 long-range wireless weatherproof access points effectively solves this problem by providing IEEE 802.11a wireless network connection with RADIUS authentication, allowing secure wireless network extension to these remote substations.
Project Overview
Energy Management System Schneider Electric "ION

Enterprise

" – for optimal energy management in the refrigerator factory. Requires rugged industrial-grade networks to handle the system's mission-critical information traffic.
PLC and Gateway Twido PLC and EGX100 Modbus Gateway – Collect critical manufacturing information such as circuit barker status, power transformer temperature, etc.
Power Meter PM810 – gathers crucial power usage information of the manufacturing system .
Unmanaged Ethernet Switches




ORing IES-150B




Forms the core wired Ethernet network backbones. The switch's compact size, along with its DIN-Rail and wall mounting installation options, makes it easy and flexible to install physically. Additionally, its redundant power inputs and the rigid IP-30 housing design ensure reliable data transmission under harsh environments, while the low power consumption of IES-150B proves to be a great energy saver.
Weatherproof Wireless Access Point




ORing IAP-W512




Features rigid and weatherproof IP-67 housing, which is suitable for even the toughest outdoor environments. The 10km communication range wirelessly extends network connections to the hard-to-reach remote substations, eliminating the need for the tedious and costly network wiring implementation to these remote substations. Besides, the support of RADIUS and other secure wireless protocols maximizes security of wireless data transmitted, ensuring that these data "stay private".
Application Requirements
Low power consumption

Secure weatherproof wireless networking in some spots

Power redundancy protections

Industrial design to sustain in harsh environment

Withstand wide temperature variations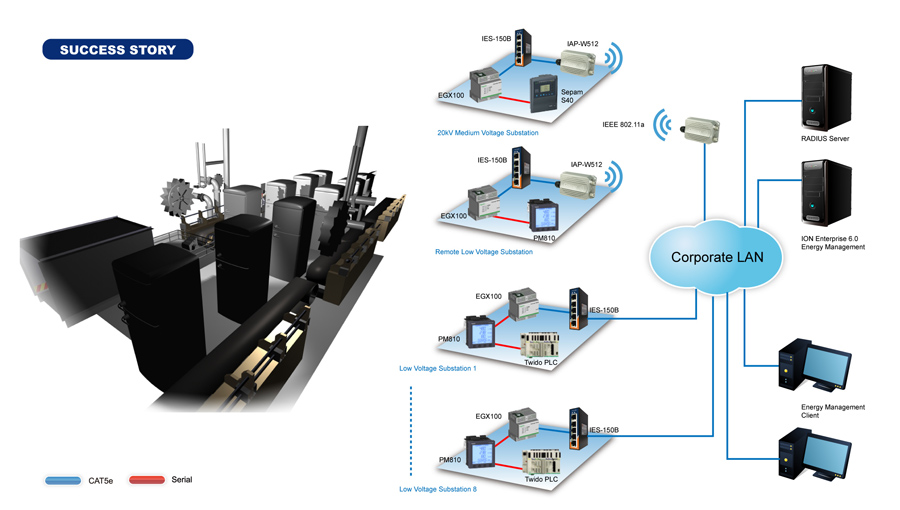 Automation System in India
Background Introduction
Location: Pune & Jamshedpur
Project Name: TATA Motors Wireless Application for Firing Engine Test Bed Machine
Number of devices deployed: 6
Products deployed: IAP-6701-WG+ & IDS-5042-WG
Due to the need for outdoor operation, the ORing IAP-6701-WG+ outdoor IEEE 802.11 b/g wireless AP was chosen because its IP-67 casing ensures a waterproof, dust-tight connection. Another reason why the IAP-6701-WG+ was picked is its support for various security methods such as encryption, MAC filter, and password protection. The IAP-6701-WG+ enables the staff at different field sites to download programs from the control room while transmitting test results back to the control center in a secure manner.
Project Requirement:
Wireless connections for unhampered and long-distance communications

Reliable operation in outdoor environments

Easy and central management capabilities
How to Connect with ORing Product?
One of the IAP-6701-WG+ is connected to the ORing device server, IDS-5042-WG, on the remote site and the other is installed at the control site to facilitate communications between the test fields and the control center. Each firing test engine at remote side was deployed one IDS-5042-WG to collect data. All of collected data from IDS-5042-WG would be delivered to AP. The AP at each factory was installed on a pole so that signals can be transmitted smoothly without being influenced by the obstacles on the ground. Since the IAP-6701-WG+ is equipped with a PoE P.D. port, there is no need to install additional power cables for the AP. Operators at different test sites are able to receive commands and any changes made by the control room simultaneously to keep the tests in sync. Control room staff can also monitor the tests and acquire test results immediately to make necessary adjustment immediately.
IAP-6701-WG+ is EOL soon. The replacement model is IAP-W520+/W522+.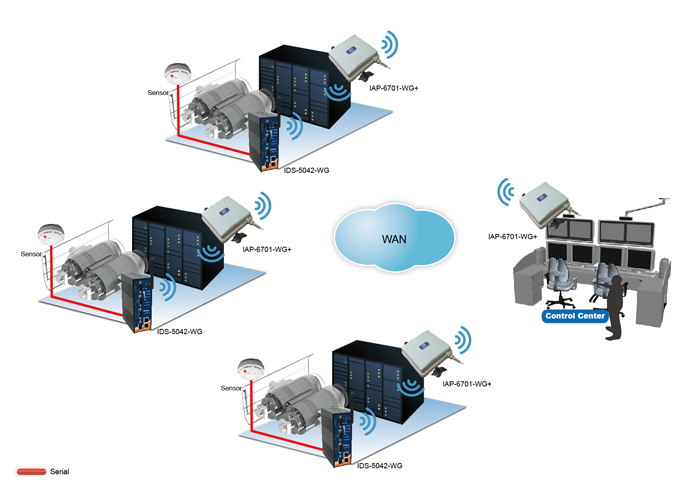 Building Automation
Strengthen BA Systems with ORing Advanced Network Technologies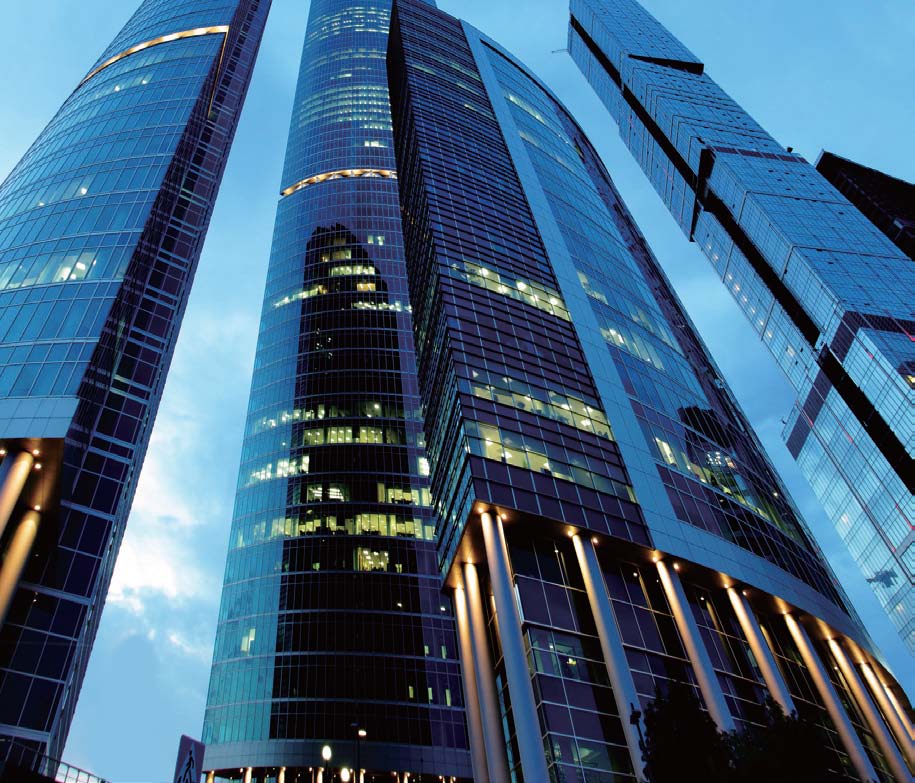 With rapid development of digital contents and networks, building surveillance systems too has evolved as intelligent digital active surveillance systems. As a result, overall video surveillance quality has vastly improved while labor and security costs are minimized. Therefore digital networks are used in important public buildings – airports, train stations, office buildings, banks, etc. – to provide connections for door access control, temperature control, lighting monitoring, security system, etc. With ORing Gigabit Ethernet Switches and ORing Optical Fiber Switches, high quality surveillance video can be transmitted from high-resolution IP surveillance cameras to applicable surveillance systems reliably and securely without interruptions. Additionally, secure industrial-grade ORing wireless APs can be used for building locations where implementation of network cables would be difficult and/or costly.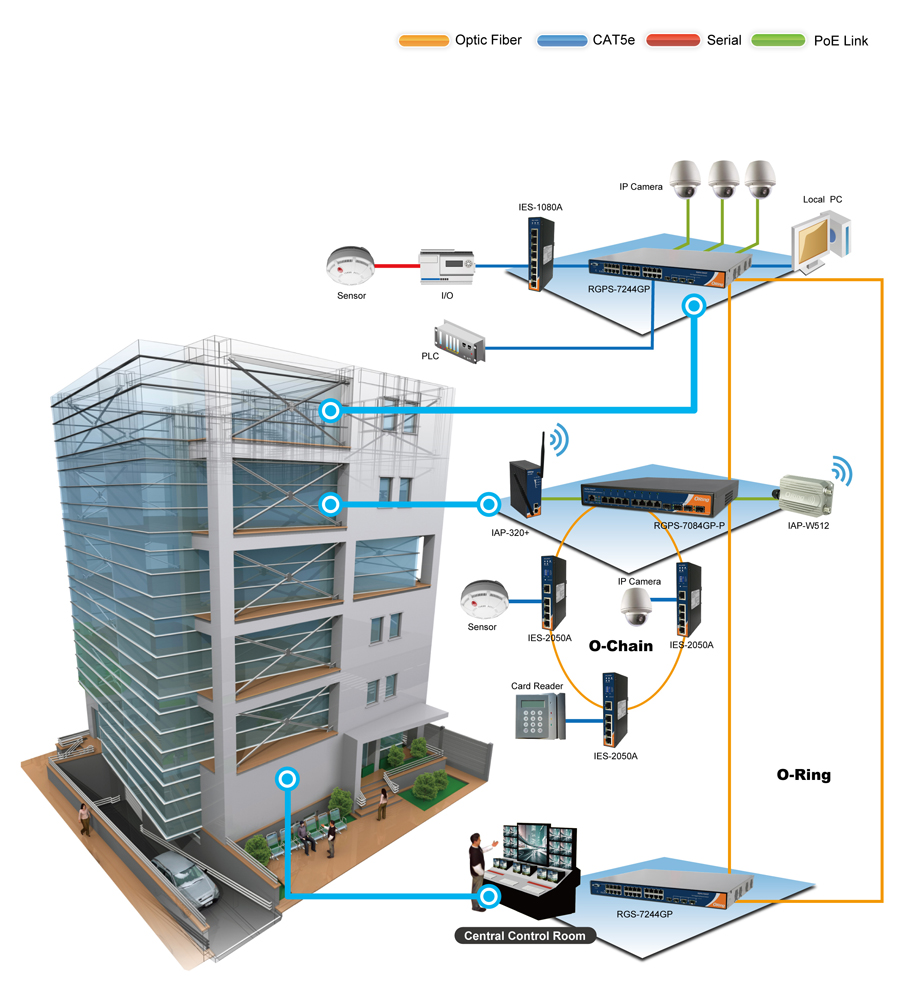 City Surveillance
Improves City Safety with ORing Advanced Network Technologies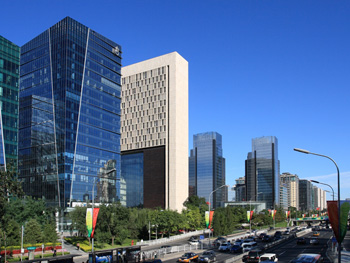 To help the law enforcement fight against criminal activities and to help the emergency personnel respond swiftly to emergency situations, city surveillance is an indispensible part of modern city. With the rapid digitization of video surveillance systems, video quality has vastly improved with capability of long distance transmission without quality degradation. However, in relaying such critical video information, the network connections involved need to stay uninterrupted in critical situations and to have and the toughest security features to guard against hacker attacks. For these purposes, ORing's PoE+, Gigabit and Optical Ethernet Switches would ensure continuous and well-protected surveillance video network traffic at all times. Additionally, secure industrial-grade ORing wireless APs can be used for venues where implementation of network cables would be difficult and/or costly.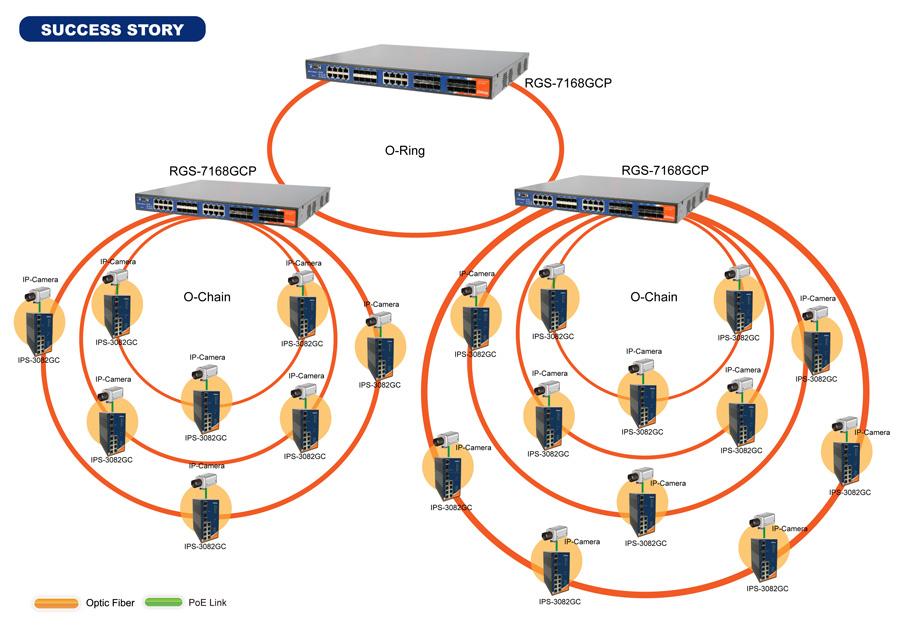 IP-based City Surveillance
Bring New Generation IP-based City Surveillance Network to a port city in the Middle East
A well-implemented IP surveillance system keeps the city safe and sound with best information quality and cost-effectiveness. But IP-based city surveillance can be a major challenge in a Middle East port city, a place that is subject to wide variations in both temperature and humidity (desert climate with occasional severe rainfall). Additionally, cost-effective P.S.E. capability is a must for widespread and flexible deployment of IP cameras. Moreover, extensive network security must be enforced to protect very critical information from being sabotaged by hackers.
With all the tough industrial networking requirements mentioned above, ORing Ethernet switches are chosen to implement the rugged industrial-grade surveillance networks much needed for the city. Each IPS-3082GCserves and powers up to 8 PoE (P.D.) IP cameras. Then different IPS-3082GC's are connected with optical links for long distance connections, with the Thunder Rack RGS-7168GCP serving the IPS-3082GC's. The networks are well-protected by ORing's advanced redundancy technologies of O-Chain and O-Ring, which, upon any node failure, provide swift network recovery (< 10 ms for conventional networks). For bandwidth boost to handle surges of surveillance network traffic, there is Port Trunking.
Coupled with powerful and visualized network management utility of Open-Vision v3.0, ORing products bring the toughest anti-hacker network protections available in the industry: DoS/DDoS auto prevention, IP Police, RADIUS authentication, SNMPv3 encrypted authentication and access security, and many more. The future version of Open-Vision will furthermore support Device Binding, which will supersede IP Police and provide even tougher anti-hacker active network protection, making sure that no hackers can sabotage or steal any critical surveillance information.
Project Overview
Captures first-hand video surveillance information on the streets. Such information need to be delivered to the control center in a timely and secure manner.
Cost-Effective Managed PoE (P.S.E.) Ethernet switch with onboard Fiber Optic Connection ORing IPS-3082GC Industrial 10-port managed PoE Ethernet switch with 8x10/100Base-T(X) P.S.E. and 2xGigabit combo ports, SFP socket.
High Performance Managed Ethernet Switch with plenty of Fiber Optic Connections RGS-7168GCP (a flagship Thunder-Rack model) Industrial 24-port rack-mount managed Gigabit Ethernet switch with 16xGigabit combo ports and 8x100/1000Base-X, SFP socket.
Application Requirements
Cost-Effective PoE (P.S.E.) networking for PoE (P.D.) IP cameras

Rigid Housing Design

Withstands wide temperature and humidity variations

Maximized network continuity

Advanced anti-hacker network protections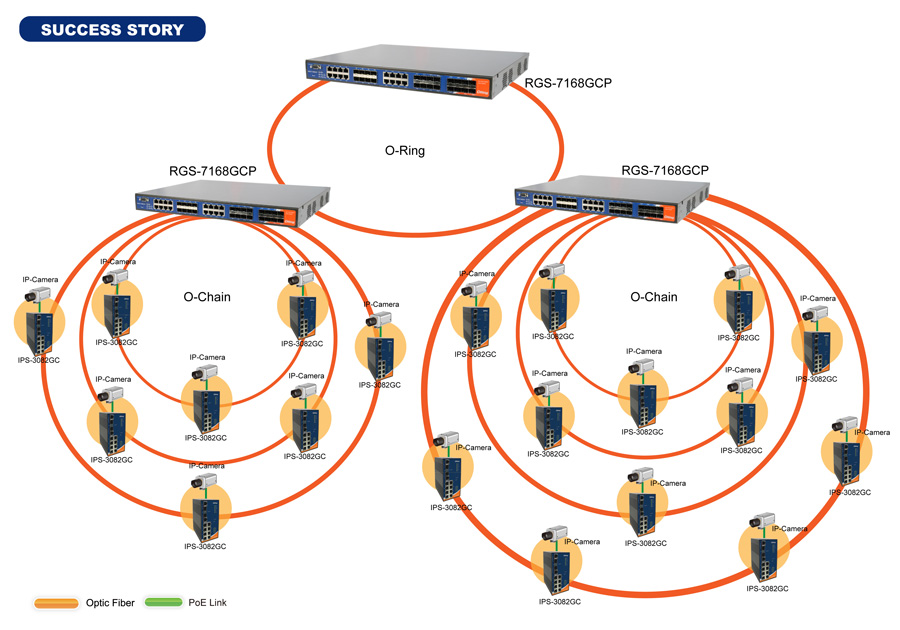 Surveillance System of Large-scaled Hoist Equipment
Background Introduction:
With the higher security demand of the productive procedure, the Zhengzhou New Dafang Heavy Industries & Technology Co., Ltd., which stands for the research and development center of large-scaled hoist equipment, established a security surveillance control system. The aim of this system is enhancing the surveillance control of equipment and security control. The system, which is designed for the large-scaled machinery, is fully compliant with the national-standard security monitoring of machinery equipment. This system can not only increase the parameter based on customers' need, but also ensure the security for the equipment.
With its multi-functions, the system not only controls the analog data and digital data of the equipment, but also deploys high quality surveillance system in the key parts. The system real-time transfers the progressing status of equipment and control the process. Moreover, it can send alarm notice when the abnormal event occurs, and in the same time enhances the quality of surveillance.
System requirement:
Supports the high resolution video for real-time monitoring.

Meet the requirement of 12/24VDC power source in cars.

Due to the inconvenience of power line deployment in some situations, PoE technology can solve the power supply problem.

Solving the configuration problem in the real-time progressing circumstances with wireless communication in certain areas.

Requirements for reliance and stability with industrial-graded equipment under harsh operating environment.
ORing Solution:
4 pieces of high resolution video are deployed in different parts in the carrying vehicle for real-time monitoring in the working condition.
Also, a PoE switch – IGPS-1080-24V is placed in the carrying vehicle which offers the power supply and data transmission for IP cameras.
The IGPS-1080-24V is connected to a wireless AP – IAP-W512+ in the same time, passing the monitoring data back to the control center of the bridge girder erection machine.
Control center of the bridge girder erection machine.
Seven pieces of high resolution IP cameras which were deployed in the different parts of bridge girder erection machine are monitoring the operating environment.
A PoE switch – IPS-3082GC-24V is configured in each operating room offering access for the high resolution IP cameras:
1) Offering the PoE power supply
2) Transmitting the data of IP cameras back to the control center.
The IAP-W512+ in the operating room connects with the wireless AP in the carrying vehicles. And it transmits the visual data of the robotic arms to the control center.
In the operating room, the Tank700 is in charge of the information progressing and preserving. The Tablet PC in driving cabinet can display the real-time monitoring information.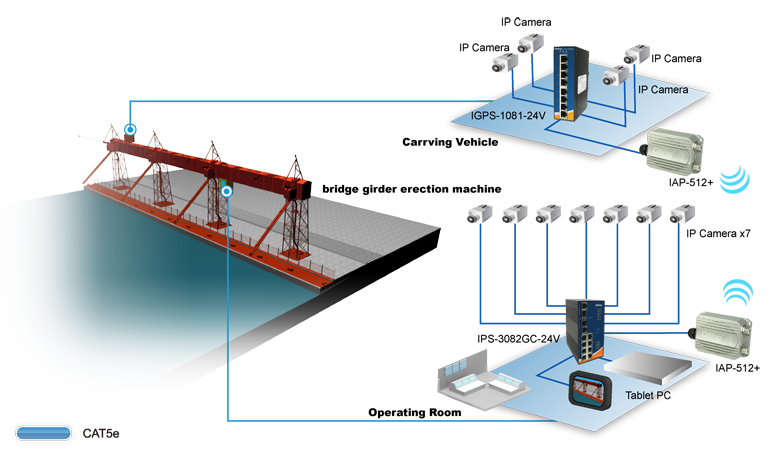 IP Surveillance in Factory
Industrial Ethernet Switch 24V series
Current situation of Surveillance industry
Security is gaining more and more attention. IP based video surveillance becomes the mainstream in security field and successfully deploy into many vertical markets. In general, Well-implemented IP surveillance system meets 2 major problems:
Wiring installation issue in harsh environment

Power input issue between bus battery (24VDC) and PoE IP Camera (48 VDC)
With all the tough industrial networking requirements mentioned above, ORing Ethernet 24VDC PoE switches with power boost technology are chosen to implement the rugged industrial-grade surveillance networks much needed for the various applications.

Factory Automation - Car Manufacturing Plant
Project Overview
PoE (P.D.) IP Cameras
Capturing first-hand video surveillance information in the factory, monitoring the process and finding the key factor and preventing issues from occurring. Not to mention that IP surveillance can transmit data to the control center in a timely and secure manner. It assures both the quality of goods and security of the staff.
Cost-Effective ORing Ethernet 24VDC PoE Switches with power boost technology:
ORing – IGPS-1080-24V, IGPS-1411GTP-24V, IPS-3082GC-24V
Surveillance Technology makes things easy, efficient and adds values to the business. ORing industrial switch is successfully deployed into their network solution.
550 units of ORing IGPS-1080-24V unmanaged Ethernet Switch were deployed into this application.
ORing Gigabit PoE Ethernet Switch with power boost technology support 24VDC, which is compliant with the factory application. Moreover, it withstands wide temperature shifts, vibrations, and well-applied for industrial environments. Its wide-ranged operating temperature (-40oC to 70 oC) can satisfy most of the working condition. The features of IPS-3082GC-24V making it the perfect choice for the proprietors.
Factory Automation - Car Manufacturing Plant
Sketch Map